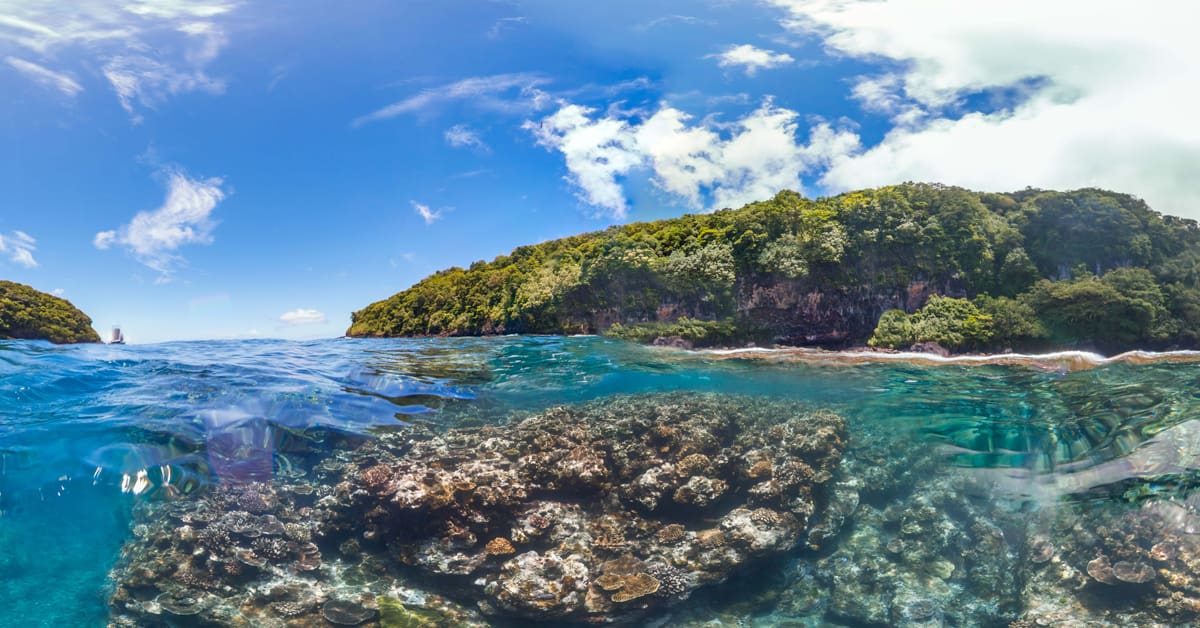 Brad Ack, Executive Director and Chief Innovation Officer at Ocean Visions
A new report from the National Academies of Sciences, Engineering and Medicine (NASEM) on ocean-based carbon dioxide removal highlights an inconvenient truth: We desperately need new strategies to abate the intensifying global climate crisis. And nowhere is the evidence more clear than in our ocean. 
It's an open secret. The ocean we love and depend upon has been dramatically damaged by climate change. Excess carbon dioxide (CO2) in the air and the upper layer of the ocean has made the ocean increasingly "hot, sour, and breathless."[1] More precisely, CO2 pollution is driving massive ocean heating, deoxygenation of ocean water, and an increase in seawater acidity. Existing CO2 levels will continue to drive these changes for decades—the only way to reverse them is by decreasing atmospheric carbon dioxide levels.
Most efforts to address the climate crisis focus on reducing (and ultimately zeroing out) emissions of greenhouse gas pollutants. And this remains essential. The hard truth, however, is that it is no longer enough. In a special climate report, the United Nations made clear that, in addition to turning off the flow of pollution, we also need to remove massive amounts of legacy CO2 from the atmosphere to safeguard our planet and our civilization.
The good news is that there are many promising solutions emerging that can help in the effort to clean up 150 years of human-caused CO2 pollution. This cleanup, referred to as "carbon dioxide removal" (CDR), can take many forms, from planting trees and restoring degraded wetlands, to employing technologies that directly scrub CO2 out of the air. CDR offers pathways for real progress in reversing the climate crisis and works in tandem with reducing emissions, not as a replacement for decarbonizing our economy.
To date, most CDR development has focused on land-based solutions. Much less focus has been given to using the potential power of the ocean to sequester and safely store CO2. However, that oversight is slowly being corrected, most recently thanks to the aforementioned new NASEM report, "A Research Strategy for Ocean-Based Carbon Dioxide Removal and Sequestration." The NASEM report highlights the science and research needs for ocean-based CDR. This is complemented by a report from the Aspen Institute on developing a code of conduct for ocean-based CDR. As ocean-based CDR advances, it is crucial for responsible deployment to be grounded in both science and governance. 
Embracing the ocean as a climate solution
The potential for employing the power of the ocean to sequester and safely store carbon dioxide is enormous, relative to that of land-based counterparts. Why? The ocean covers 71% of the earth; it naturally cycles and stores carbon safely at the bottom of the sea; and has far fewer social and political controversies/ramifications than many land-based approaches.
Ocean-based CDR can take a number of forms, from growing marine 'trees' like kelp and other seaweeds, to accelerated weathering of minerals that interact with seawater, to ocean iron fertilization, and more. Ocean-based CDR pathways aim to store carbon in the deep ocean—in contrast to the excess CO2 in the upper layers of the ocean, which causes ocean acidification. And ocean-based CDR may be a "two-fer," in that while directly addressing the root causes of the climate crisis (by removing legacy CO2 pollution), it also directly addresses the largest cause of our ocean crisis (damage driven by CO2 pollution).
Increasing ocean-based CDR research and development
The NASEM report shines a needed light on the potential of ocean-based CDR technologies to address the climate crisis and outlines the many approaches that exist. The report highlights a series of critical research questions for ocean-based CDR approaches and calls for about $1.3 billion dollars over ten years in new prioritized research and development. An earlier report by the Energy Futures Initiative, to which Ocean Visions contributed, outlines a $2 billion R&D investment plan over ten years. 
The bottom line is that a very significant level of new investment is essential and research needs to be accelerated; we do not have time to move slowly in addressing CDR. As one observer astutely pointed out, winning slowly is the same as losing[2] in the race to avert climate disasters.  
While moving quickly is imperative, so is rigorous science and due process. R&D work must pay careful attention to social, economic, and environmental justice considerations to ensure that the costs and benefits of new climate solutions are distributed equitably. To this end, the Aspen Institute report mentioned above highlights why we need to quickly develop a "code of conduct" to guide responsible ocean-based CDR research and development. 
Accelerating ocean-based CDR research and development
The R&D priorities outlined in the recently released NASEM report are consistent with work underway at Ocean Visions. From 2020-2021, Ocean Visions worked with experts from across the globe to co-create a series of road maps that identify key priorities to advance our collective knowledge and capacity in ocean-based CDR. The road maps and work focus not just on science and technology, but also on governance, policy, and social considerations. Considering how all these factors work together is crucial to ensure that ocean-based CDR takes place responsibly and in a manner that benefits communities. These road maps are now being used to catalyze international engagement and investment around specific priorities and will be updated and refined to reflect progress in this space.
Moving forward on ocean-based carbon dioxide removal
We need greatly increased momentum in 2022 on testing and development of ocean-based CDR approaches. But this in turn depends on more of us facing the facts: CDR is imperative in the race against dangerous climate change and ocean-based CDR is a legitimate and critical tool in the race to avert climate disasters. And, ocean-based CDR pathways do not conflict with efforts to reduce emissions.   
Until the world's climate leaders give both CDR and ocean-based CDR the recognition, legitimacy, and research budgets they deserve as climate action tools, we will be unable to move forward as quickly as needed. The reports from NASEM, Aspen Institute, Energy Futures Initiative and Ocean Visions are all important steps forward in bringing that needed recognition and legitimacy to ocean-based CDR. May 2022 be the year we begin to move the ocean from being a climate victim to a critical climate solution.  
Brad Ack is Executive Director and Chief Innovation Officer at Ocean Visions. Ocean Visions is working tirelessly on ocean-based CDR, connecting scientists, managers, environmentalists, investors, businesspeople, policymakers, and others to drive research and testing of innovative solutions at the ocean-climate nexus. Follow us on Twitter.

Related Resources