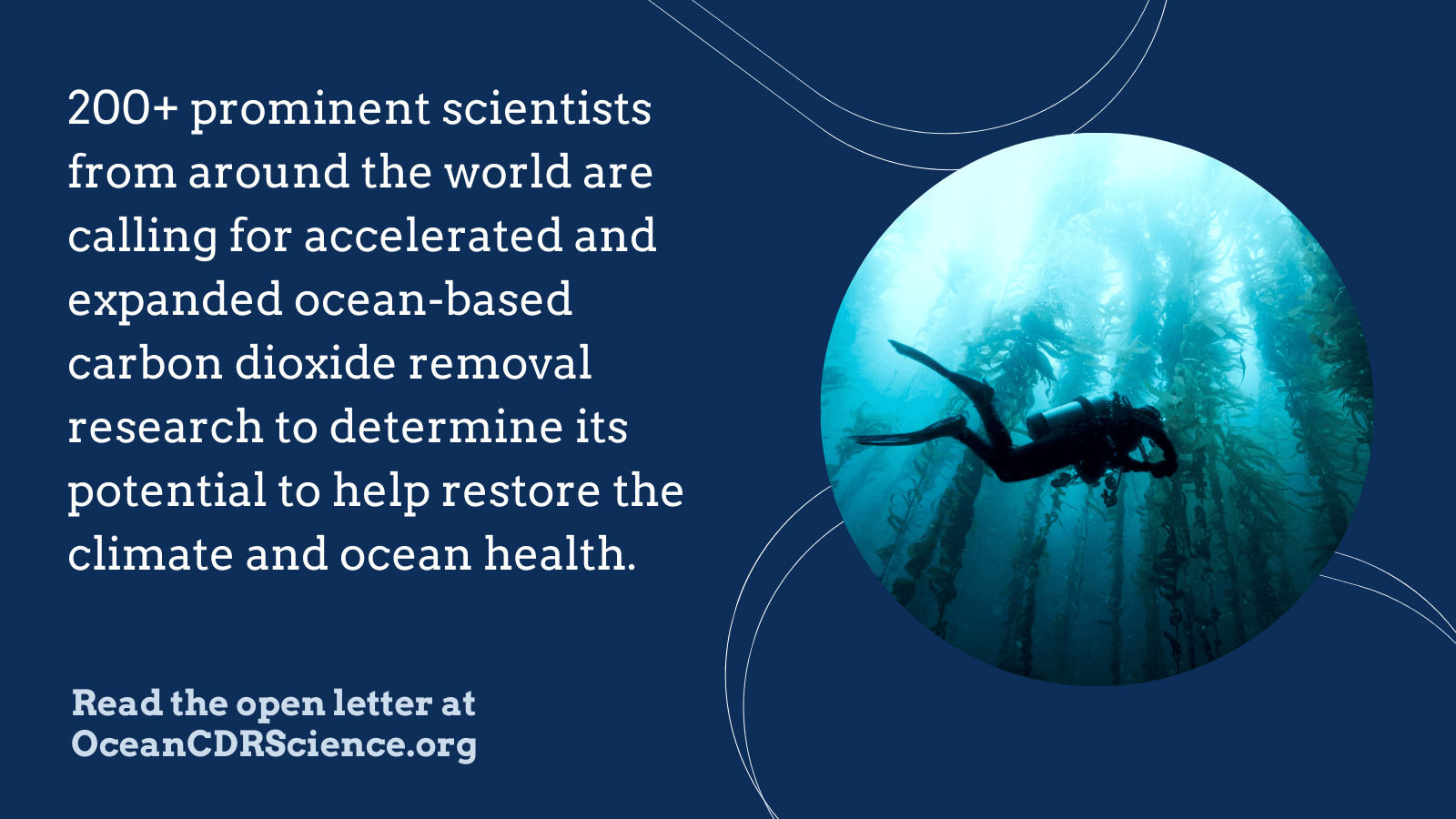 Prominent scientists from around the world join the call for marine research, including James Hansen, Sir David King, Margaret Leinen, Sware Semesi, and Ken Caldeira

ATLANTA, Georgia, September 5, 2023 — Today, more than 200 internationally renowned scientists published an open letter endorsing the need to prioritize and accelerate ocean-based carbon dioxide removal research and development. The letter highlights the need to evaluate the potential role of the oceans in carbon dioxide removal and emphasizes the urgency of better understanding the risks and benefits.
Signed by prominent scientists in the fields of oceanography, environmental sciences, and climate science, the open letter underscores the critical need to accelerate research and development on ocean-based carbon dioxide removal (OCDR). Ocean-based carbon dioxide removal refers to the intentional enhancement or expansion of biological or chemical processes to sequester carbon dioxide in the ocean.
The delivery of the letter comes as world leaders gather in New York City to attend the 78th session of the UN General Assembly (UNGA 78). The letter is released amidst mounting evidence of climate disruption including record-breaking temperatures in the ocean. 
The ocean is the largest carbon dioxide sink on the planet, already holding about 50 times more carbon dioxide in the deep ocean than what is in the atmosphere. The letter states, "While ocean-based carbon dioxide removal approaches have enormous potential, there are also risks. Society does not yet have nearly enough information about the effectiveness or impacts of any specific approach and so cannot make informed decisions about their use at scale."
"The IPCC has made clear that large-scale CO2 removal will be needed this century to stem rising temperatures. Therefore, it is imperative that we accelerate responsible research, development, and testing of all carbon dioxide removal pathways, including in the ocean, to determine which approaches may ultimately be safe, equitable, and feasible," said Woods Hole Oceanographic Institution President and Director Peter de Menocal, who signed the open letter. 
The signatories of the open letter express their commitment to advancing research, fostering innovation, and advocating for policy frameworks that allow responsible research and testing. They emphasize the urgent need for transformative action to address climate change, safeguard marine ecosystems, and ensure a viable future for generations to come. The letter also emphasizes the primary importance of reducing emissions, with carbon removal working in tandem to help meet the 1.5 degrees Celsius target.
This letter shows there is significant international support within the scientific community to answer critical questions about the efficacy and the social and environmental effects of these techniques. It is imperative to find out whether ocean-based carbon dioxide removal approaches are viable mitigation pathways to reduce climate risk. 
The letter specifically calls for a research portfolio of:
Controlled field trials of each pathway in diverse ocean settings to evaluate the efficacy, impacts, and operational requirements in a real-world environment and provide needed information to society

Accelerated engineering and environmental optimization of each potential ocean-based carbon dioxide removal pathway
The signatories affirm that testing and trials must be accompanied by:
Rigorous and transparent monitoring and evaluation frameworks to measure environmental, social, and economic effects

Third-party independent review of results

Safeguards to mitigate any unintended or adverse consequences

Inclusive governance structures that deliver transparency and engagement for all interested parties

Global collaboration and data sharing similar to what emerged during COVID-19.
The open letter concludes by urging all members of society to embrace the responsibility of protecting the ocean and supporting research into ocean-based approaches to carbon dioxide removal. It emphasizes that concerted efforts across many sectors, geographies, and cultures are essential to combat climate change, protect ocean health, and sustain humanity. It is an open letter that will continue to be open for signatures. 

About Ocean Visions:
Ocean Visions is a non-profit organization that catalyzes innovation at the intersection of the ocean and climate crises. Ocean Visions facilitates multisector collaborations from within its Network and beyond, working with leading research institutions, the private sector, and public-interest organizations to fully explore and advance responsible and effective ocean-based climate solutions. In short, Ocean Visions works to stabilize the climate and restore ocean health. To learn more, visit www.oceanvisions.org or follow @Ocean_Visions on Twitter.