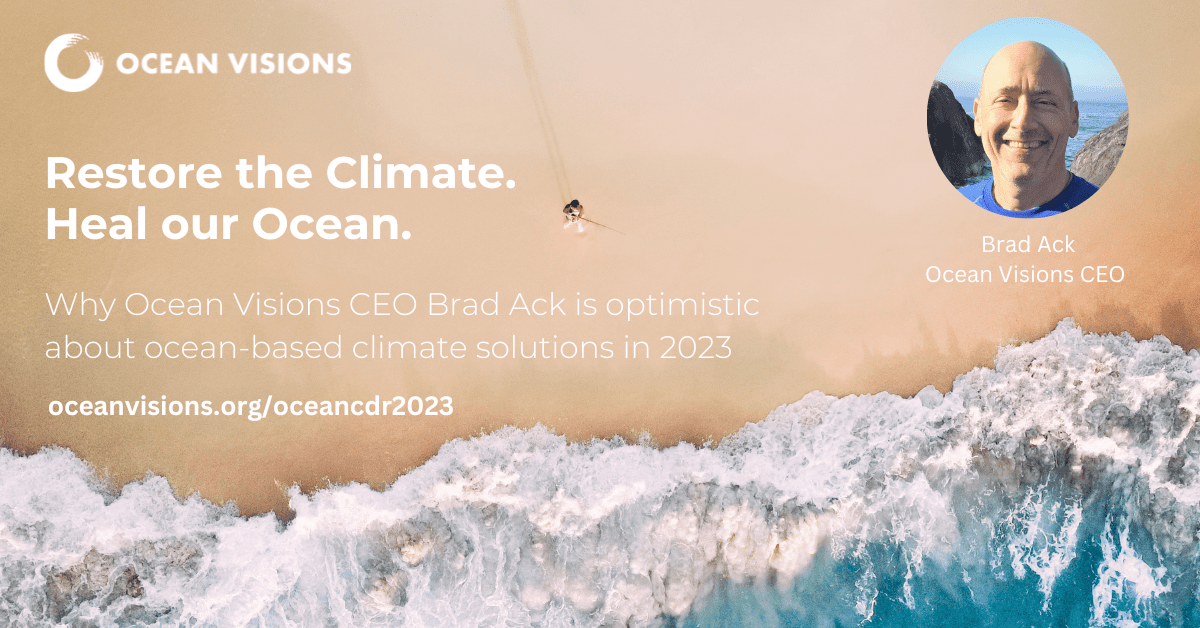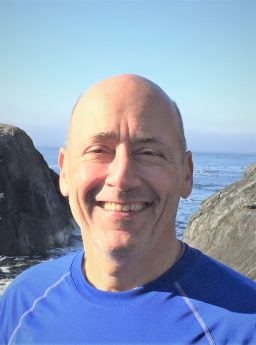 Brad Ack
   Chief Executive Officer
   Ocean Visions

I'm optimistic that 2023 will be a big year to advance an agenda to restore the climate and heal the ocean, thanks to the increasing momentum I see globally to employ new tools to address the planet's complex challenges.

Working on planetary-scale challenges was certainly not something I contemplated growing up. As a young man, I experienced nature as vast and immune to human transgression, a lesson taken from trips to wild places. One of my favorites was Minnesota's Boundary Waters Canoe Area Wilderness, a huge, wild system of lakes and islands with strict controls on entry and use. I would go on week-long excursions there, eating fresh-caught walleye and northern pike, and drinking water right out of the lake. It was that clean.
Until, I learned, it wasn't.   
I remember seeing a sign warning against eating the fish—no more than twice a week, and not at all if you were pregnant. I couldn't believe it. How could these remote, protected waters be unsafe? I'd soon discover that mercury emitted from coal-burning facilities far away was depositing into the once-pristine waters.
Drawing Boundaries Around Special Places Just Isn't Enough
This was the first of many environmental awakenings I've had that have shaped my thinking about the nature of conservation. The lesson? It doesn't matter how well you physically protect and manage wild pockets of nature; the biosphere we live in is ultimately connected, so drawing boundaries around special places just isn't enough.
I have carried this lesson throughout my career, and it rings ever-more true in my work today at Ocean Visions. And now the problems are much bigger. The climate disruption stemming from greenhouse gas pollution poses such enormous threats to the environment and ocean that traditional protection efforts are not enough; we cannot safeguard the ocean without first stopping, and then reversing, climate change. 
This means we have to transition our entire civilization to minimize greenhouse gas emissions. But given the enormity of that task, we now know that we must also clean up existing greenhouse gas pollution. As we've learned time and again, any pollutant that greatly exceeds "safe" levels in the environment has to be cleaned up to stop the harm. Carbon dioxide is no exception.
A Moral Obligation
I believe it is our moral obligation to explore all possible solutions to this climate crisis. I feel sure this sentiment would be shared by our children, their children, and future generations.
In Ocean Visions' work, this means looking into ways to mimic and enhance the natural processes the ocean uses to cycle and safely store carbon dioxide. This is called ocean-based carbon dioxide removal (CDR). And while progress oftentimes can seem too slow, I've been encouraged over the last few years by a marked increase in the exploration of innovative ocean-based climate solutions.
Ocean-Based Climate Solutions
One need only look back at recent headlines.
The late 2021 National Academies report offering a research strategy for ocean-based CDR helped kick off a flurry of activity that's spurred a growing community into motion. Next came a comprehensive review from the United Nations that made clear we need to remove massive amounts of legacy carbon dioxide to have any chance of hitting our climate goals. Then, this past summer of 2022, both the CHIPS and Inflation Reduction Acts passed with billions of dollars to advance CDR research—gamechangers for the CDR community broadly. And I was proud to see our Ocean Visions Network members Woods Hole Oceanographic Institution and Scripps Institution of Oceanography organize the first-ever Ocean Pavilion at COP27, putting the ocean center stage at these international climate talks.
These milestones ushered in a more rapid advance and acceleration of responsible research, testing, and development of ocean-based climate solutions. This involves supporting innovators, building political support, creating enabling governance frameworks, unlocking funding, and activating a community of makers and solvers.
The Role of Ocean Visions
To that end, some of Ocean Visions' proudest moments of 2022 include:
1) Creating the Launchpad program to connect expert science advisors with ocean-based CDR innovators to advance technology development and testing
2) Launching the Ocean Visions – UN Decade Collaborative Center for Ocean-Climate Solutions
3) Partnering with Additional Ventures and a consortium of funders to launch the $20M Ocean Alkalinity Enhancement R&D Program
4) Creating a framework to foster global research on growing and sinking seaweed for carbon sequestration
5) Supporting the development of model federal laws
With help from a growing community, we look forward to adding to this momentum. 2023 will be a crucial year to make progress on controlled field trials at climate-relevant scales, enable policy frameworks, vastly expand investment, and continue to grow the field of ocean-based climate solutions into a global movement.
Get Involved
I invite all of you to join us in seizing these opportunities for progress and impact:
Scientists, researchers, and innovators: We need more of you engaging in this space to advance technology development, performance, scalability, and impacts assessment. We need field testing of the most promising pathways with careful monitoring and evaluation frameworks.
Policy makers and investors: We need to develop capacity (including supportive technologies and infrastructure) to accelerate and scale research, development, and demonstration (RD&D). This enabling environment must include participatory and transparent governance regimes.
Conservation, climate, and ocean advocates: We need you to engage directly, to help shape and build understanding and efficacy of ocean-based climate solutions. These solutions will likely be part of the toolset for conservation in the mid-stages of the climate crisis and we need to make sure they are the best they can be.
As a deep lover of nature, a father, and a fellow passenger on this finite planet, I feel a moral and ethical responsibility to take action. And despite the challenges that lay ahead, I remain optimistic about our collective ability to innovate the solutions we need! 
ABOUT BRAD ACK

Brad Ack has 35 years of experience working at the intersection of science, policy and environmental innovation, focused on the preservation of nature and a living world. During his career he has designed and implemented innovative conservation and sustainability initiatives spanning tropical forests and high deserts to estuaries and the global ocean. Brad has worked for both government and NGOs at senior levels.
Brad serves as Chief Executive Officer for Ocean Visions, an NGO at the center of a collaborative network of research institutions and innovators, investors, and practitioners of ocean regeneration. Ocean Visions is advancing a new agenda for the ocean, focused on directly addressing the greatest cause of harm – greenhouse gas pollution that is driving existential threats to the ocean. Ocean Visions works across sectors and disciplines to unlock new intellectual and financial resources to source, develop and scale cutting-edge innovation to regenerate critical components of the ocean-climate system.
Previously Brad served as SVP Oceans at WWF-US; Executive Director of the Puget Sound Recovery Program for the State of Washington; and Regional Director-Americas for the Marine Stewardship Council. He earlier led conservation programs at Grand Canyon Trust and started his career working on community-based conservation in Latin America. Brad received his Master's degree from Georgetown University and Bachelor's degree at Macalester College.