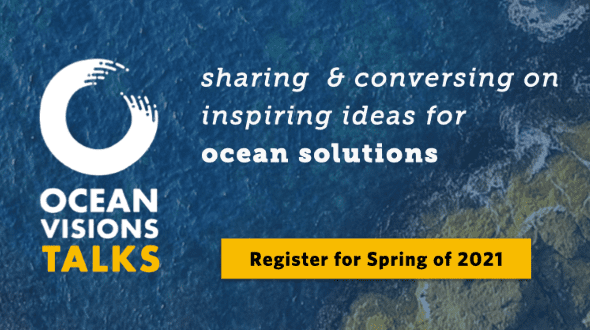 We are launching a new series of public short talks that aim at bringing inspiring ocean solutions ideas and efforts to the attention of the Ocean Visions community and beyond. 
The talk will span a broad array of ocean solutions topics and feature a diverse and inclusive set of speakers and perspective
Talk Format:
20-30 minutes invited TED-style talk on ocean solutions idea or effort
30-minute breakout group discussion led by students with jamboards
10-minute reports from breakout groups
At the end of each breakout group, the leads will post a short 200-300 words blog entry to summarize the conversation from the breakout groups.
Both talks and breakout groups are in a virtual format and open to any registered attendee. Registration is free but required. We also invite the community to suggest speakers and topics.
Starting January 15, 2021
02:00 PM Eastern Time (US and Canada)
Every week on Fridays
List of speakers and more details