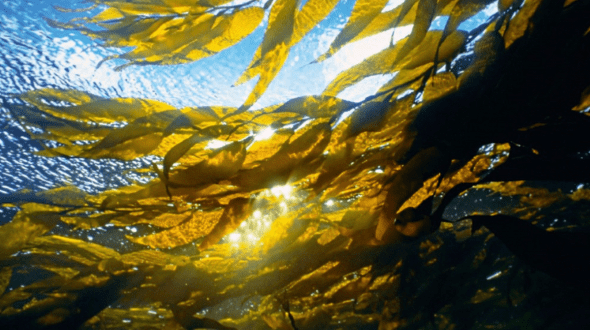 Ocean Visions works to transform science and engineering into scalable, equitable, and sustainable ocean solutions.  In furtherance of this mission, Ocean Visions has partnered with the Grantham Environment Trust to evaluate and advance effective ocean-based climate solutions.  Under this agreement, Ocean Visions and the Grantham Environmental Trust work together to evaluate the science and engineering of proposed ocean-climate innovations, and Ocean Visions provides third-party advice and assistance on research, development, field testing, impact analysis, and optimization to Grantham Environmental Trust grantees.
We are pleased to announce our first initiative under the Ocean Visions-Grantham Environmental Trust Partnership.  Ocean Visions has assembled a team of experts to advise and independently evaluate a research project being conducted by Running Tide Technologies, Inc., a company that specializes in scalable aquaculture solutions. Running Tide intends to conduct a field trial in 2021 of a technology to grow seaweeds (macroalgae) with the intent of sequestering carbon. This field trial will determine the efficacy and impacts of a proprietary system of open ocean kelp farming for carbon sequestration.
Ocean Visions' Expert Team will provide external, third-party review of Running Tide's research plans and all findings that come from the field trial.  Specifically, the OV Expert Team will:
Review Running Tide's research plan and provide feedback on ways to optimize the design and implementation to maximize performance, efficacy and data integrity.
Review potential environmental risks and upstream and downstream impacts of the field trial and advise on how to minimize any potential negative impacts.
Provide review and advice on design of monitoring systems and protocols to measure overall performance, and in particular, carbon sequestration and environmental impacts of the field trial.
Review results of the field trial as they become available.
Provide an independent final report to Running Tide, the Grantham Environmental Trust, and the interested public on the overall effort, the validity of the findings, any areas of disagreement and suggested next steps with respect to the field trial.
OV Expert Team members include Jim Barry, Tom Bell, Annalisa Branco, Wil Burns and Alex Rogers, as well as David Koweek, Ocean Visions Science Director and Brad Ack, Ocean Visions Executive Director.  Short biographies for team members are below.
For further information, please contact Brad Ack, Executive Director, Ocean Visions at brad.ack@oceanvisions.org or Justine Simon at Running Tide at justine@runningtide.com.
Ocean Visions Expert Team Brief Biographies
Jim Barry, a Senior Scientist and Chair of the Research Division at the Monterey Bay Aquarium Research Institute (MBARI) is a marine ecologist whose research focuses on the consequences of climate-related changes in ocean conditions, including ocean acidification, warming, and reduced oxygen levels, for marine organisms and ecosystems. Jim's research spans topics from the ecology of rocky shores to deep-sea corals and sponges, and from California shores to the coastal waters of Antarctica. Dr Barry has published over 150 scientific papers, and has helped inform the public and policy-makers on ocean acidification, ocean carbon sequestration, and climate change by speaking at congressional hearings, briefings, and meetings with members of Congress.
Tom Bell is an ecosystem ecologist at the Earth Research Institute at UC Santa Barbara, that studies the dynamics of coastal foundation species (kelps, seagrasses, corals) over large space and time scales. Specifically, he uses a combination of field and laboratory studies, statistical and mechanistic models, and satellite/aerial remote sensing to understand how the abundance and physiology of coastal foundation species, and their associated ecological communities, are spatially structured by environmental dynamics and biotic interactions. He has authored over 30 peer-reviewed publications and has also been developing aerial and underwater imaging techniques to quantify the growth, biomass, and tissue content qualities of kelp grown on offshore aquaculture farms.
Annalisa Bracco is a professor in the School of Earth and Atmospheric Sciences at Georgia Tech.  She is a physical oceanographer and her group' research focuses on understanding the role of the ocean circulation in transporting and mixing physical and biogeochemical tracers. She is interested in linking physical processes to climate variability, biodiversity and evolution by combining basic and applied sciences with innovative modeling tools, data mining and dynamical systems theory.  She has authored over 80 peer-reviewed publications and received the AMS 2011 Nicholas Fofonoff Award for contributions to understanding mesoscale ocean dynamics, geostrophic turbulence, and tropical dynamics, and their coupling with marine ecosystems.
Wil Burns is a Visiting Professor, Environmental Policy & Climate program at Northwestern University and a Professor of Research and Founding Co-Director of the Institute for Carbon Removal Law & Policy at American University's School of International Service in Washington, DC. He is also a Senior Research Fellow for the Centre for International Governance Innovation (CIGI), and Co-Chair of the International Environmental Law Committee of the American Branch of the International Law Association. He has published over 80 articles and chapters in law, science, and policy journals and books, and has co-edited four books. He holds a Ph.D. in International Environmental Law from the University of Wales-Cardiff School of Law. His current areas of research focus are climate geoengineering, climate loss and damage, and the effectiveness of the European Union's Emissions Trading System.
Alex Rogers is a marine ecologist who is interested in how biodiversity is distributed in the ocean, especially in the deep sea and on tropical coral reefs. He is also interested in human impacts on the ocean and how to manage human activities to mitigate or reduce degradation of marine ecosystems. His work has taken him to the Atlantic, Indian and Southern Oceans and to the Caribbean investigating coral reef ecosystems, seamounts and deep-sea hydrothermal vents. Alex has worked with governments, intergovernmental and non-governmental organisations in publicising human impacts, especially those from deep-sea fishing and climate change, and on the development of policy solutions to such problems. He is Scientific Director of REV Ocean a foundation aimed at finding solutions to problems affecting the ocean as well as Visiting Professor, Department of Zoology, and Senior Research Fellow, Somerville College, University of Oxford.
Ocean Visions Staff Members:
David Koweek is the Science Director for Ocean Visions and co-leads Ocean Visions' efforts to support the development and testing of ocean-based carbon dioxide removal approaches. David is trained as a chemical oceanographer and marine scientist. He has led and participated in field expeditions across the world, including on the Great Barrier Reef, the Ross Sea, the California coast, the Sargasso Sea, and natural carbon dioxide vents off Italy. David scholarly works have been published in top-tier journals, including Nature. Prior to his role with Ocean Visions, David was a postdoctoral research scientist at the Carnegie Institution for Science. He holds a Ph.D. from Stanford University and a B.S. from Brown University.
Brad Ack is the Executive Director and Chief Innovation Officer at Ocean Visions.  Prior to joining Ocean Visions, Brad served as Senior Vice President, Oceans at WWF-US; Regional Director-Americas for the Marine Stewardship Council; and Executive Director of the Puget Sound Recovery Program in the State of Washington.  Brad has a long track record of environmental innovation spanning the tropical forests of Latin America, to the high deserts of the American southwest, to the Pacific NW and work throughout the global ocean.  Brad has worked for both government and NGOs at senior levels, in concert with the private sector, designing and implementing conservation and sustainability initiatives.